IPM and Covid-19 – what you need to know
It has certainly been an unusual few weeks. Less than two months ago we were in the office, our children were at school and, at the weekends, we watched football, went to the pub or enjoyed time in the company of our family and friends.
Like every other business, IPM has adapted quickly to the rapidly evolving situation. We faced the dual challenge of both looking after the wellbeing of our team while continuing to provide the service advisers and clients have come to expect from us at the tax year end – one of our busiest periods.
Remote working and a dedicated Covid-19 webpage
We took the decision to close our office on 23rd March and immediately implemented procedures to enable the majority of our team (more than 90%) to work from home.
We are also committed to supporting all our employees during this period and so we will not be using any of the schemes introduced by the government to support businesses.
To help maintain the service advisers and clients expect from us, we have introduced a new Covid-19 page on our website. This will provide useful information concerning:
IPM's working practices
How you can get in touch with us during this period
Some of the questions we are frequently being asked by advisers and clients.
We recommend checking back on this page regularly for updates and to get answers to your questions.
Relaxing requirements for original documents during lockdown
Being a bespoke SIPP provider, a lot of our work is still paper-based and requires wet signatures.
To ensure this work continues, a small number of our senior staff members are going into the office each day, while respecting social distancing guidelines, to open post, distribute work electronically amongst our remote team, and then execute and post any work that is sent by our colleagues back to the office.
During the lockdown, we have relaxed the requirement that we must have original copies of IPM paperwork before actioning any work. We will now work off scanned copies, and simply require original documents to be sent to us as soon as is convenient.
We have also been working to make all our documentation 'pdf amendable'. These will be made available on our website and be issued by our team from the week commencing 20 April.
We're here if you need any of our services
All our colleagues who are still working can respond to emails in the usual way. Find a list of our team and their contact details here.
While our main switchboard is closed, our team are still happy to arrange a time to speak with you on the phone. Find out how on our dedicated Covid-19 page.
We are still able to provide all the services you would expect of IPM including setting up new SIPPs, transfers in, contributions, making investments, paying pension benefits and dealing with commercial property purchase and enquiries.
Finally, we want to say thank you to all our clients, advisers and professional connections for their support and patience during this period. As most of you will be aware, IPM prides itself on personal service and carrying out our work in a timely manner.
Given current working conditions, in some instances, work is taking us a little longer than we would usually like. Please be assured we are working hard to provide our service to the best of our ability.
A peek into our home offices
Like most businesses who have staff working from home, our colleagues have had to find ways to adapt to their new surroundings. We thought it would be fun to share the working from home set-ups which some of our staff have put in place.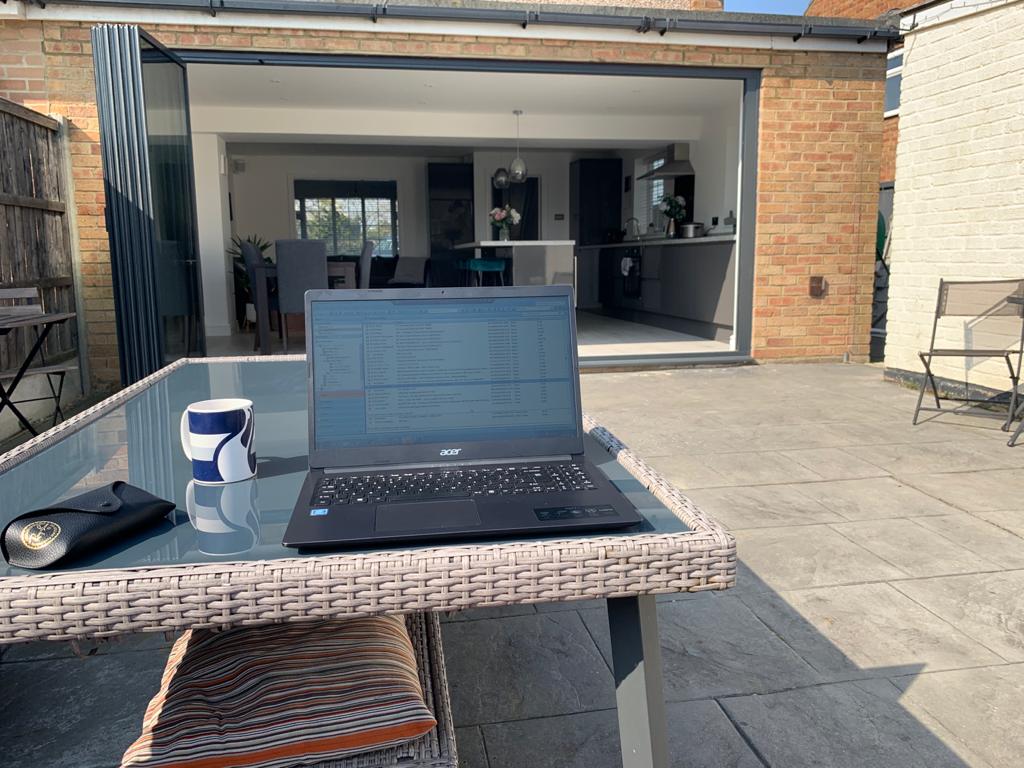 Terry has taken advantage of the good weather (and his smart new kitchen/patio area) to set up an outside office, so he can continue helping clients and advisers on all property-related matters.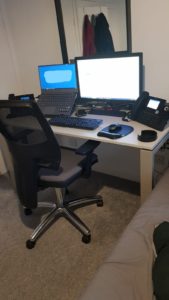 Most of you will know our colleague Julia, who works with our admin team providing valuations and drawdown reviews to our clients. Julia is lucky enough to have a son who is a computer whizz, working in the IT department of a large company, who set up this professional workspace for her. Perhaps coming back to the office will be a bit of comedown for her!?
And finally, like a lot of people who are working from home, James is trying to balance work and dealing with having young children around! James has found that this approach buys him some time and some peace so that he can continue to support our advisers.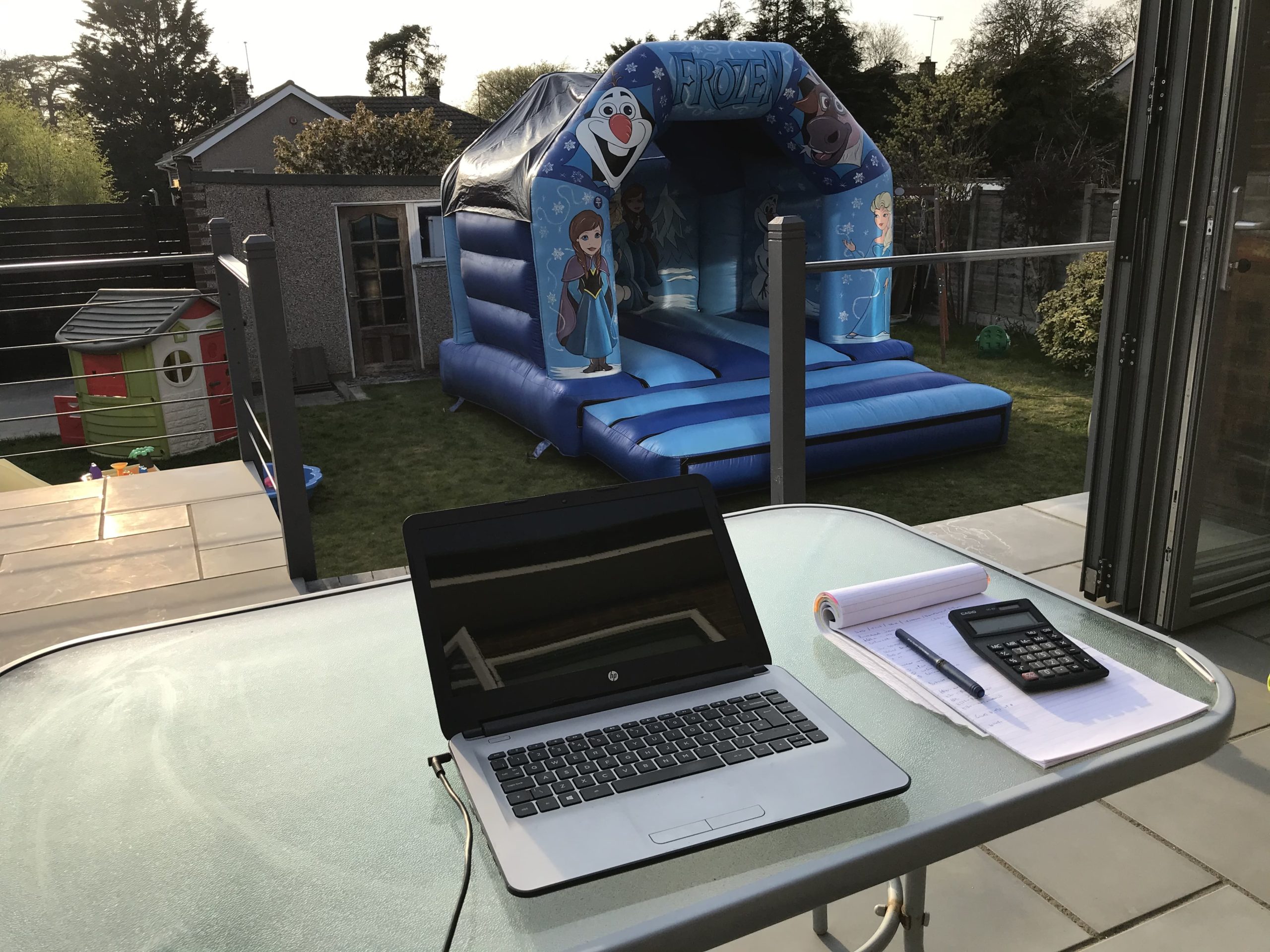 What the IPM team have been up to
Like many millions of people spending the last few weeks at home, television has provided an escape.
Popular shows with the IPM team include ITV's Who Wants To Be A Millionaire? drama Quiz starring Michael Sheen, Sian Clifford and Matthew McFadyen. Line of Duty is a perennial must-watch, while the team have also been enjoying the adventures of Gordon, Gino and Fred on their Road Trip.
Netflix has also provided a lot of entertainment over the last month. Highlights include the behind-the-scenes sporting documentary Sunderland Til I Die, drama The Stranger, and the larger-than-life exploits of gun-toting zoo owner Joe Exotic in the much-discussed Tiger King.
A lot of IPM's team are into sport one way or another, and so the shutdown of all major sports has left a big void! Some of our colleagues have been taking advantage of being at home more to watch Premier League Years on Sky Sports (not so great for the many Tottenham fans in our office!) and the re-runs of the golfing majors and F1 races.
Many of you will have been affected by the cancellation or postponement of events this year, and our team are no exception.
Colleagues were due to participate in either a range of half-marathons and even the London Marathon this year, and while the swim/run event in the Gower and Man vs Coast down in Cornwall are still scheduled, colleagues have seen their training plans scuppered. While it's no replacement, we know the Joe Wicks morning PE classes on YouTube have been popular!
Get in touch
We're open for business and continuing to take new enquiries or answer questions you and your clients have about SIPPs. If you need us, please contact us. Email info@ipm-pensions.co.uk or use our staff guide to find your most appropriate contact.